Few facts before discussing about generic products approval in US:
Hatch-Waxman Act: The Drug Price Competition and Patent Term Restoration Act is commonly known as "Hatch-Waxman Act" which was enacted in 1984 as an amendment to Federal Food, Drug, and Cosmetic Act (the "FFDCA") and the Patent Act.
The main goal of this act to expedite the Generic drug approval process and reach the market quickly. 505 (b)2 and 505(b) (j) regulatory pathways were introduced by this act.
Patent information of all the approved product is maintained in orange book.
Abbreviated New Drug application (ANDA) is used for generic products approval in US. It comes under 505 (b)(j) section. It is commonly called as 505 (b)(j) pathway of generic drug approval.
Learn about other of drug approval in USA
Drug Approval Process in India
The Drug approval process in EU
Drug Approval Process in China
Para I, II, III and IV certifications:
ANDA has four type of submission (Section 505(j)(2)(A)(vii); 21 CFR 314.95). They are listed as :
Paragraph I certification: when patent is not submitted for drug candidate (No Patent in Orange book). FDA can approve ANDA without delay.
Paragraph II certification: when the Patent gets expired, FDA can approve ANDA without delay.
Paragraph III certification: After the particulate date when drug patent is going to be expired, FDA can approve ANDA.
Paragraph IV certification: It is somewhat complicated. applicant files the application to FDA for ANDA paragraph- IV certification. Applicant has to notify the patent holder about this application within 20 days.
Patent holder can files infringement suit against ANDA applicant within 45 days (from receiving of notification by ANDA applicant). In this case, ANDA approval is stayed for 30 months.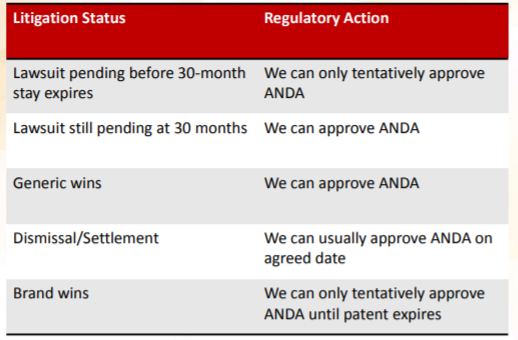 It is important to note that 180-day exclusivity is only available to "First to File" (FTF) ANDAs which comes successfully through Paragraph IV certification.
Shared Exclusivity: Many times there are more than one applicant in "First to file" category. In this case, applicant share the 180 days exclusivity which can be understood by below graph (source FDA: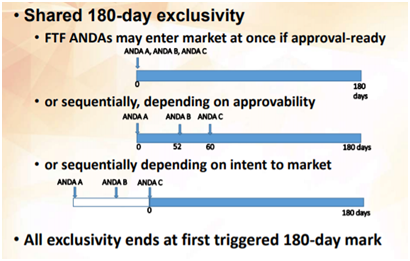 Ref: https://www.raps.org/regulatory-focus%E2%84%A2/news-articles/2016/8/patents-vs-market-exclusivity-why-does-it-take-so-long-to-bring-generics-to-markethttps://www.fda.gov/media/92548/download
fda.gov/drugs/development-approval-process-drugs/frequently-asked-questions-patents-and-exclusivity#What_is_the_difference_between_patents_a
https://www.fda.gov/drugs/abbreviated-new-drug-application-anda/paragraph-iv-drug-product-applications-generic-drug-patent-challenge-notifications
for IT certification, follow the path: comptia A+ certification test