"Medical coding is the transformation into necessary medical alphanumeric codes of healthcare diagnoses, treatments, medical facilities, and supplies.
The diagnosis and codes of procedure are taken from the medical record documents, such as transcription of doctor's notes, laboratory and radiological findings etc.
What is Medical Coding?
Medical coding is the transformation of the healthcare diagnosis, procedures, medical services, and equipment into universal medical alphanumeric codes.
The diagnoses and procedure codes are taken from the medical record documentation, such as transcription of the physician's notes, laboratory and radiologic results, etc.
The healthcare professional discusses the complaint and medical history, makes an expert evaluation of what's wrong and how you should be handled, and records the appointment.
That documentation is not just the ongoing record of the patient, it is how the healthcare provider gets paid.
Medical codes translate that documentation into standardized codes that tell payers the following:
Patient's diagnosis

Medical requirement for the treatments, services, or supply the patient received

Services, treatments, and supplies provided to patient

Any extraordinary circumstances or medical condition that affected those treatments and services
Medical Coding includes the ability to understand the anatomy, physiology, and details of the services, and the payers' rules and regulations to succeed, like a musician who interprets the written music and uses their instrument to create what is intended.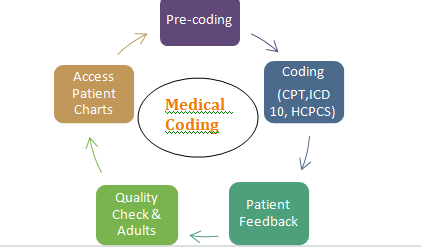 Medical coding is derived from public mortality bills written in the 18th century in London.
By correlating these, doctors established the cause of a cholera epidemic.
As the knowledge gained by Medical Coding is used to enhance overall healthcare, it is much more important now.
The results are submitted to payers for compensation, but the data derived from the codes also are used to determine utilization, manage risk, identify resource use, build actuarial tables, and support public health and actions.
A specialised discipline is required for medical coding.
Medical coders, often working very closely with clinicians, administrators, and payers, are considered part of the medical team.
Medical Coders have diverse talents as a scholar, a detective, an educator, and a problem solver.
A number of services and claims are processed daily by the Medical Coder and Biller.
Medical codes must say the entire storey of the patient's experience with the physician and must be as precise as possible in capturing reimbursement for rendered services.
The key role of a Medical Coder is to review clinical statements and grant standard codes using CPT ®, ICD-10-CM, and HCPCS Level II classification systems.
In the other hand , medical billers process and follow up on requests sent for reimbursement of services provided by a healthcare provider to health insurance providers.
The Medical Coder and medical biller may be the same person or may collaborate with each other to ensure invoices are paid properly.
The coder reviews the patient's medical record (i.e. the transcription of the doctor's notes, ordered laboratory tests, requested imaging studies, and other sources) to validate the work that was performed to help promote a smooth coding and billing process.
Both work together to avoid insurance payment denials.
Why is Medical Coding Needed?
The healthcare revenue stream is based on the documentation of what was learned, decided, and performed.
The diagnosis, test results, and treatment of a patient must be recorded, not just for reimbursement, but also to ensure good quality care for future visits.
The confidential health information of a patient accompanies them through subsequent problems and treatments and needs to be readily understood.
Given the hundreds of millions of visits, operations, and hospitalizations annually in the United States, this is especially important.
The problem, however, is that there are thousands of conditions , diseases, injuries, and causes of death.
Thousands of services offered by manufacturers are also available and an equivalent amount of injectable drugs and supplies have to be monitored.
Medical coding classifies these for better reporting and monitoring.
And in healthcare, there are multiple descriptions, acronyms, names, and eponyms for each illness, treatment, and method.
Medical coding standardises the language and presentation of all these elements so they can be more easily interpreted, recorded, and updated.
This common language, required by the Health Information Portability and Transparency Act ( HIPAA), helps hospitals, suppliers, and payers to communicate quickly and reliably.
Nearly all private health information is stored digitally and rests on the codes being assigned.
Types of Codes Used
Medical coding is done all over the world, with most countries using the International Classification of Diseases (ICD).
The World Health Organization manages the ICD, and each member country modifies it to meet its needs.
There are six official HIPAA-mandated code sets serving various needs in the United States.
ICD-10-CM (International Classification of Diseases, 10th Edition, Clinically Modified)
ICD-10-CM includes codes for anything that can make you sick, hurt you, or kill you.

The 69,000-code set is made up of codes for conditions and disease, poisons, neoplasms, injuries, causes of injuries, and activities being performed when the injuries were incurred.

Codes are "smart codes" of up to seven alphanumeric characters that specifically describe the patient's complaint. ICD-10-CM is used to establish medical necessity for services and for tracking.

It also makes up the foundation of the MS-DRG.
Examples of ICD-10-CM diagnosis codes: J01.91 – Recurrent acute sinusitis R11.2 – Nausea with vomiting S42.001A – Fracture of right clavicle

CPT® (Current Procedure Terminology)
Owned and maintained by the American Medical Association, this code set includes more than 8,000 five-character alphanumeric codes that describe services provided by physicians, paraprofessionals, therapists, and others to patients.

Using the CPT ® method, most outpatient services are reported. It is also used by physicians to report care they administer in inpatient facilities. Here's a little behind the scenes about CPT ® codes being made.

Over 10,000 CPT codes are available and are updated at the start of each year and no memorization is needed. On the insurance claim forms, CPT codes must be registered.

Examples of CPT codes:
99213 billed for an established office visit
27250 billed for treatment of hip dislocation
49540 billed for repair of a lumbar hernia
71045 billed for chest x-ray
90653 billed for flu injection

HCPCS Level II (Health Care Procedural Coding System, Level II)
HCPCS Level II's 7,000-plus alphanumeric codes, originally developed for use by Medicare , Medicaid, Blue Cross / Blue Shield, and other providers to report procedures and bill for supplies, are used for many more uses, such as quality measure monitoring, billing for outpatient surgery, and academic studies.

Orthotic supplies, Vision supplies and other support. On the insurance claim forms, HCPCS codes have to be registered. Example of HCPCS for a drug injection: Patient receives an injection of B12 – J3420
CDT® (Code on Dental Procedures and Nomenclature)

The American Dental Association (ADA) owns and maintains CDT ® codes.
The five-character codes start with the letter D which used to be the HCPCS Level II dental section. Using CDT ® codes, most dental and oral procedures are billed.

MODIFIERS

MODIFIERS are used on procedure codes in order to identify the procedure or service was altered.

They are not used for all procedures and used only when necessary. An example could be removal of the ear wax (cerumen) was performed on both ears.

The code is for unilateral so the modifier 50 would be added to the procedure code to allow the insurance know it was performed on both ears.
Example of modifier used on a procedure: Removal of impacted cerumen by lavage – 69209-50

NDC (National Drug Codes)
To track and report all packages of drugs, the Federal Drug Administration (FDA) code set is used.

The smart codes of 10-13 alphanumeric characters allow suppliers, suppliers, and federal agencies to identify prescribed, sold, and used drugs.

For example, the NDC for a 100-count bottle of Prozac 20 mg is 0777-3105-02.
The first segment of numbers identifies the labeler.
In this case, the labeler code "00777" is for Dista Products Company, the labeler of Prozac.

MS-DRG and APC
MS-DRG and APCs are two federal code sets used to allow payments resulting from the above schemes.

They depend on existing codes sets but indicate the resources consumed by the facility to perform the service.

MS-DRG (Medical Severity Diagnosis Related Groups)
A hospital files MS-DRGs to be reimbursed for the stay of a patient. The MS-DRG is focused on the reported ICD-10-CM and ICD-10-PCS codes.

They are defined by a particular set of the patient attributes which include principal diagnosis, specific secondary diagnoses, procedures, sex, and discharge status.

The Centers for Medicare & Medicaid Services (CMS) work with 3M HIS in order to maintain this data set.

APC Ambulatory Payment Categories)
To help the Hospital Outpatient Prospective payments system (OPPS), APCs are maintained by the Centers for Medicare & Medicaid Services ( CMS).

In this system, certain outpatient procedures in a hospital are reimbursed, such as minor surgery and other treatments.
How is Medical Coding Done?
Medical coding is best performed by trained and certified Medical Coders. The following example outlines what a typical day in the life of a Medical Coder may look like…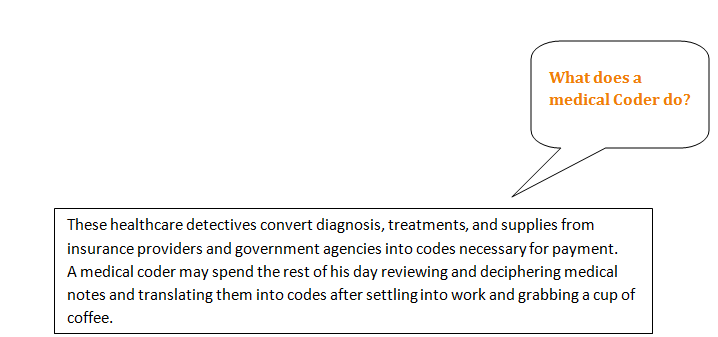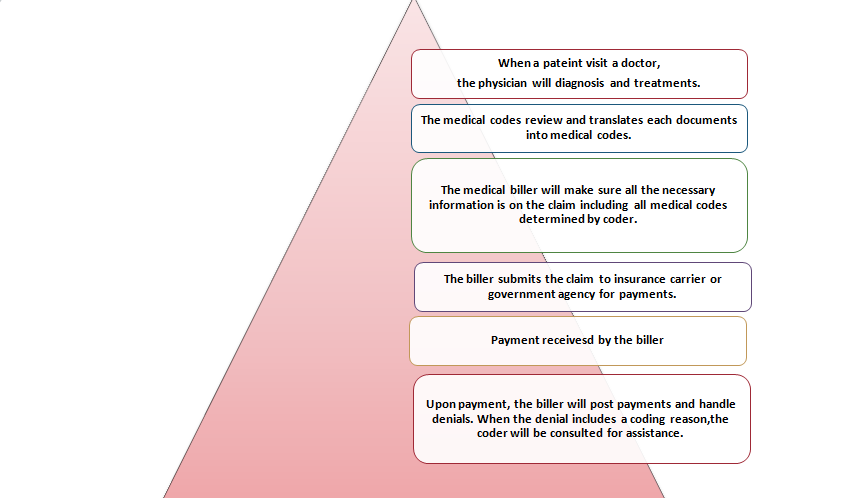 The type of records and notes depends on the clinical setting (outpatient or facility) and may require a certain degree of specialization (Healthcare systems may have individuals who focus on medical specialties while coders who work in smaller, or more general offices, may have a broad range of patients and medical conditions.).
Selecting the top patient note or billing sheet on the stack, the coder begins reviewing the documentation to understand the patient's diagnoses assigned and procedures performed during their visit.
Coders also abstract other key information from the documentation, including physician names, dates of procedures, and other information.
Coders rely on ICD-10 and CPT® code books to begin translating the physician's notes into useful medical codes.
An example of basic procedure documentation and subsequently assigned codes can be seen below.
Many cases are simple to code. Individual Medical Coders develop a detailed understanding of the procedures and commonality of their specific clinic or facility.
Coders occasionally encounter a difficult note requiring in-depth research, taking more time to code correctly.
Even among the more commonly used codes are significant gray areas open for examination among coders.
With very complex or unusual cases, coding guidelines may be confusing to interpret.
Experienced coders will rely on their network of peers and professionals to discuss nuances in online forums, networking with specialists they have met at national conferences, or consulting with co-workers to help understand the issue and determine the proper codes.
Ongoing training and current coding-related periodicals such as Healthcare Business Monthly also provide important opportunities to advance understanding and professionalism.
Finally, the coder completes the chart and begins the next patient record. This cycle of reading, note taking, assigning codes, and computer entry repeats with each chart.
Most coders will spend the majority of their day sitting at the computer reading notes and using their computer to enter data into a billing system or search for information to clarify the documentation in the notes.
How Do You Become a Medical Coder?
Effective medical coders are familiar with anatomy , physiology, medical procedures, rules and policies.
You must undergo training through a coding-specific training programme or college to become a Medical Coder.
After that, if you have a technical certification, it is easier to find a position in the industry.
Depending on the area of the revenue cycle you wish to pursue, there are many Medical Coding certifications available.
The Certified Professional Coder (CPC), which certifies the ability of the coder to work in outpatient settings, is the baseline for most.
The Certified Inpatient Coder (CIC) for inpatient coding and the Certified Outpatient Coder (COC) for hospital patients who receive in-and-out services should be pursued by facility coders.
Here's an infographic that will help you pick the best certificate for the hospital.
For both online medical coding training and physical medical coding training courses, there are many programmes available.
Professional coders largely work independently. However, interaction with coding staff, medical billers, physicians, and ancillary office staff is essential.
Medical coders are usually placed on tight production schedules and expected to complete a determined number of notes each day or to keep their lag days at a specified timeframe.
Lag days are the number of days it takes for the notes to be documented to actual claims submission date. The prime date is regularly between two to five days.
Internal or external auditors regularly conduct coding and reporting audits for consistency and completeness, depending on the clinical environment.
The findings of these coding audits are maintained by the department of compliance or by the supervisor of the department and are an essential part of job evaluations.
How Much Does a Medical Coder Make in A Year?
Choosing a Medical Coding Service Provider
For medical coding, there are many options available, but some options may be better than others, depending on the size of the practise, the number of patients, the field of specialisation, and more for a specific organisation.
In almost every health care environment, such as large hospitals , private hospitals, government hospitals , medical associations, nursing homes, rehabilitation centres, law firms , insurance companies, and more, medical coding is required.
Medical coding is one of the most important assets, no matter the group of health care services that an entity falls under.
Here are some options to consider:
Small practices or clinics with regular office hours

There is no dedicated coder for most smaller practises; instead, they often tend to use a software programme for practise management to help complete and speed up their operations, like coding and submissions.
Data and information relevant to patient care are entered into the system by the practice's administrative or data-entry workers.
This helps to minimise overhead compensation and wage costs and offers a seamless interface, including scheduling, monitoring, coding and billing, for all practise operations.
Another choice is to use a consultant or 'outsource' their coding needs to a person for smaller practises. Practices of recruiting and independent provider of medical coding should first ensure that this individual has a certification or degree.
Hospitals or larger practices open 24/7
When it comes to medical billing and encoding, most major practises that work continuously during the day have a range of choices available.
Some organisations choose to recruit a dedicated coding community or department that is responsible for managing all of an organisation's submissions and claims.
This may be a good option for the large hospitals, where all of the work can be done in-house and in close contact with all the physicians and care providers.
On the other hand, because of the large volume of patient records being treated or because of an affiliated network or system to which they belong, several larger organisations that don't have a department devoted exclusively to billing and coding opt to outsource this process.
Medical coding can be a complicated process, but safety and accuracy for every health care organisation should be top priorities for providers."
References: